When it comes to dating and men, I'm afraid I'm stuck with the old fashion way, or at least what I think is the old fashion way.
But let's go back to where it begins…
When it comes to men, I usually don't really have any problem! As they are all around me, I just have to pick one. Well, somehow they have to show me what differentiates them from the others, because this is the beauty of having the choice, you get to pick. But first, men need to give you a reason to pick them.
But now I face a huge dilemma… I noticed a guy in the building, and we have nick-named him James Bond. Why? Because he is tall, blonde and always wears a business suit.
For the ones who don't know me, I love tall men. I just love to look up to my man and feel safe. I love the feeling of protection I get next to a man who is taller than me. I don't know how to explain. I mean, my ex-husband is just as tall as me, and I stuck by him for some good ten years (although I never wore heels next to him, Lol). So I don't make it a golden rule, but I do prefer tall men in general.
Add to that one of the sexiest English accents I've ever heard! I'm pretty sure I also mentioned that I am a big sucker for the English accent.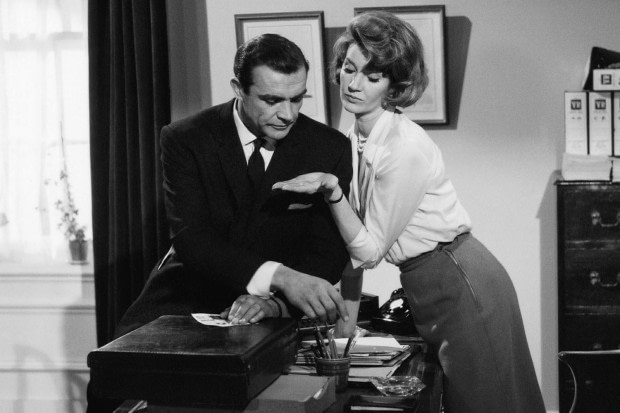 I was dating an English guy some time ago, and one day I posted on my Facebook how I thought my roommate was so charming because he had that sexy English accent. When my boyfriend read it, he left a message on my voicemail: "If you are in love with me because of my accent, you should not have come to England, as there are a lot of guys with the same accent!" I thought it was so sweet…
No, not all English accents are created equal. It also has to do with the way a man expresses himself, and the voice. But when I hear THE one, I just melt. It is like: Please talk to me, JUST say anything, and do not stop! Lol
James Bond -my James Bond– has the accent, the looks, he is tall, he owns a charming smile and he is a gentleman… He opened the door for us the other day on our way out to the launderette, as we were carrying quite a few bags of clothes.
Yes, James is a very charming guy… or so he seems, as I know nothing about him and nobody else seems to know anything either.
But the weirdest thing is I find it very hard to talk to him! Me, of all people, the girl who is never afraid to speak her mind out! It was the first time I ever talked to him, and we were discussing bread makers… I could feel myself turning all red… My mind was wondering if he could actually see that I was red under my makeup, which would have mostly faded away as it was towards the end of the day. And no, I did not start the conversation; I have a friend at the reception to thank for that, as he knows I have a little crush on James Bond.
Everyone knows me for being strong, confident, and intimidating at times, but this time around (and probably for the first time ever) I am the one intimidated by a guy! A guy I know absolutely nothing about, except he eats fish and loves stir fry. I mean, he could be married for all I know, though he does not wear a ring… after all, why would such a charming guy be single???
Perhaps what I like about James Bond is the way he makes me feel intimidated, the way he is seducing me and not just letting be seduced by my charms, which I know I have, Lol. This is what I mean with the old fashion way: men used to come after women, now is us women who come after men… what if, for once, we want to go back to the way things used to be? What if I want to be a delicate flower, and just let myself be seduced by someone with a license to kill?
(Hey, by the way, I know he is not James Bond, if I wanted to see the real 007 I'd had to wait until next year, when the new movie is released! I heard they are starting to film in October, with sexy Daniel Craig… However, there's something mysterious about my neighbor, perhaps that is what thrills me about my James Bond, tallness and accent aside).