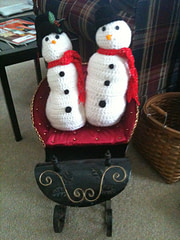 This is my first post about Christmas and probably the last, at least for this year 🙂 . Everyone is talking about the coming holidays these days, but I'm not a huge Christmas fan myself. As a matter of fact, I was talking to my friend Steve about it the other day, it turns out, I haven't celebrated Christmas for some time. I don't actually miss it, since I never got to feel a real Christmas spirit, call me Scrooge* if you like, but that's just me!
The last white Christmas I celebrated was in London, and I was 17 (just figure it out! LOL) Actually, I did not celebrate it, since I was working. Anyway, it was actually my best pay check… After that, I was traveling, and I was not  in touch with my family, so I never celebrated Christmas again until I got to Australia a few years later.
Then, since my ex husband was French and his family was there with us, they kept the tradition of the tree and the presents, even though the tree was fake. This is something common in Australia, where there are no real Christmas trees, we have palm trees, and the few real Christmas trees I saw looked like a ridiculous branch. Of course, since we are French we have to eat a lot on Christmas Eve, and we usually finish the night in the swimming pool because it is so hot in here! Really, there is no Christmas spirit. And once I got separated, my in laws could not care less… and so, my kids moved on, after that all they cared about was getting the presents, they could not care less about Santa.
Then it was February 2009 when I came back to the States. It was sunny when I arrived. My boyfriend and I went to Atlantic City for the weekend. We arrived at the Caesar Hotel late in the afternoon. In the evening, we went downstairs to have some drinks and, since he's a smoker, he had to go outside. He came back with a big smile on his face telling me to follow him. This is what he wanted to show me: at the front of the main entry of the casino, there was that huge pine tree, and it was now covered by snow. My first thought was: OMG it's Christmas! It was a strange feeling, the closest I ever came to that so-called Christmas spirit. Nevertheless, after spending five months in France for winter early this year, I got over the snow pretty quickly…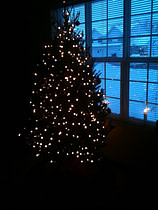 Now, what I find interesting here in the States is the importance of going and chopping their Christmas tree (not too eco-friendly, I guess…) and the time and planning to put out the lights outside! I have never seen so many lights. Most houses have some sorts of Christmas lights and if the house is not fully covered by lights there will be at least a small one at the front of the house. It is interesting to see that Americans really show off like that.  It is kind of a competition between the neighbors! I mean, even Halloween always impressed me by all the decorations they just put out.
Anyway, people go crazy on Christmas, going shopping is a nightmare and yet, we all crowd in the shops and buy our asses off… if that's the real Christmas spirit, I guess I'm just glad I don't take part of it!
*Famous character from Charles Dickens' book A Christmas Carol. He's a rich old fellow who hates Christmas until he receives the visit from three ghosts on Christmas Eve… I'm still waiting! LOL Merry Christmas!

I wish you all a Merry Christmas and please stay safe.