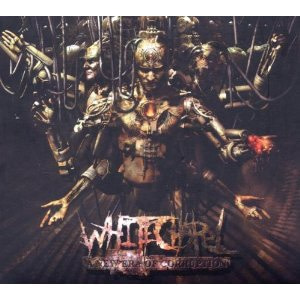 Death Metal music, love it or hate it, guys? How about you, girls? Would you lower your volume to the last hit song from Nicky Minaj and listen to what I can only describe as an orgy of power guitars, an outstanding bass, extremely violent lyrics, and drums that won't stop? Well, I ask the question because Landon, a dear friend of mine, told me that being a fan of Death Metal music was a repellent for girls. Let me tell you that Landon is absolutely gorgeous and single -and no, you cannot have his number, you naughty girl- so I decided to listen to some death metal music to see if he had a really valid point.
Though I don't think you should like or dislike somebody for their music taste, you should always tolerate your other half, or your friend, even when they do something you don't like. But hey! I'm not here to preach, just love to know what my friends are up to. It's always great to discover new things!
Speaking to Landon, I learned that when he was younger he was depressed and felt angry at the world, so he would listen to "angry" music… anyway, things fortunately improved for him, but now he still loves Death Detal music. One of his favorite Death Metal bands is Whitechapel, a very anti-religion band, with strong lyrics that would shock good old Ned Flanders. Other Death Metal bands, like Misery Index and Lamb of God, are more against political corruption. So I got Whitechapel latest album, I think, New Era of Corruption.
So what is Death Metal music?
Basically, it is the extreme version of Heavy Metal (we've all listened to Metallica, so no need to explain this, right?). Death metal emerged twenty something years ago. This sub-genre is known for employing heavily distorted guitars, blast beat drumming (sounds like a train is passing over your head), deep growling voices (they can be quite scary sometimes!), atonality or unusual keys, and complex song structures (difficult to follow!).
Landon described Death Metal music as "medication when you are pissed off" and I think he is right on that one. That day I was in an awful mood, you know, when you wish you had iron feet so you could just kick walls… The thing is, that particular music just seemed to fit with the moment. Now I believe that Death Metal music is almost enjoyable if you listen to it at the right time, because it provides the perfect atmosphere.
In case you are wondering, no, I do not have a lesser opinion of Landon just because he listens to some music that does sound a bit crazy at times, and it is particularly hard to understand -I admit I cheated! I had to Google the lyrics so I could understand what Whitechapel was singing, LOL
Landon said that most girls he met who listened to Death Metal music were either crazy or fake. So fear not, I will not turn into a hardcore Death Metal music fan or even pretend to like it. I don't mind it, but I would certainly not listen to Death Metal music all day long, I'm not that pissed off with the world!