Have you heard Don Omar yet? I fell in love with the song Conteo  watching  The Fast and The Furious Tokyo Drift so I decided to do a little research. But let me start from the beginning.
Ever since I begun spending a lot of time in the USA, I realized I should have been more attentive at school. Back then, I wanted to learn Italian after coming back from some wonderful Italy summer holidays, and hey, I've even dated a few Italians guys… But the school I attended only had Spanish, and I had to have three different languages… The thing is, when I have to do something that I don't really want to do, I just don't. So the bottom line is: I never actually retained anything from my two years of Spanish lessons.
After hearing so many people speak in Spanish while in the USA, and also after being invited to Mexico, now I really want to learn Spanish -and German too, I was not paying much attention in class either… LOL. So I downloaded a few iPhone apps to learn Spanish for a start. Anyway, I believe the best way to learn a new language is to practice it.
In the meantime, the latest The Fast and the Furious is out at the movies (Fast Five), so I decided to re-watch the series, especially The Fast and the Furious: Tokyo Drift one: I had only seen half of it as I thought it was a bit boring and it still is but watched all anyway… That's when I heard that song Conteo from Don Omar, and I loved it, so I decided to get the album and to do a bit of research about Don Omar. And it's also a good way to practice my Spanish.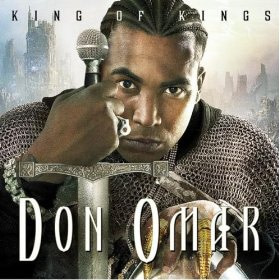 Don Omar is a Puerto Rican Reggaetón singer. He was born in 1978 as William Omar Landrón Rivera, but he is known as Don Omar or simply El Rey (which means 'the king'). Don Omar was interested in music since he was very young, and as a teenager, he joined a protestant church where he offered sermons, but left it some years later because he wanted to pursue a musical career. He begun singing in night clubs and appeared in several compilation albums from popular DJ's until he recorded his first solo album in 2006, King of Kings, which was a huge success. The following year, Don Omar was given the Latin Billboard award for "Reggaeton Album Of The Year" for this album. All his next albums were successful. As for his personal life, Don Omar is divorced and has three children.
'Conteo' is a song that mixes English and Spanish words, something quite common in Puerto Rico. For example, one line goes "Hey, mira mami venga aquí,
Hey, bring it over here", which kind of rhymes. As for the topic of the song, according to an Argentinean friend of mine, it is mostly sex, women partying down with street gangs and himself as the #1 King. So far, I can't sing it is Spanish yet, but I certainly enjoy dancing it!