Fifty Shades, the trilogy, has become a worldwide phenomenon.
With over 30 million copies sold in more than 30 countries, what started as an independent publication on a small Australian editorial has turned into a sales record which has even outnumbered Harry Potter. E. L. James, the British author that created the passionate story between young innocent Ana Steele and handsome rich Christian Grey, is now one of the most influential people in the world, according to Time Magazine.
This won't be an article about the money the book is moving, though, but about the book itself.
Is Fifty Shades of Grey really that good?

Why does Fifty Shades of Grey attract so many readers (especially female readers)?
They are two very different questions and thus they deserve two different answers. One at the time, let's see…
Is Fifty Shades of Grey 'fifty shades of great'?
 The reviews the books have received have been black or white –surprisingly, no grays! Either you love the novel, or you hate it. Of course, Fifty Shades of Grey is not meant to be read by someone with a close mind, or too prude so as to feel intimidated by an explicit description of sex between two consenting adults. In fact, when I read the book, I was wondering if I would read something stronger (or more shocking) than I had already read in Bukowski or Marquis de Sade. In case you are wondering, no, I didn't. The limits are quite unambiguous, so as to relieve those readers who are not quite sure if they should go on…
Ok, it's a book that has lots of sex, without being pornographic. After all, it remains a love story. And may I say, a classic one: girl falls in love with the wrong kind of guy, she wonders if she can change so as not to loose him, she tries her best and in the meantime, she explores physical pleasure until she eventually realizes she can't go further and she can't change him either… This is only the first book of a trilogy (so far), but I don't think it will get any more original.
Sex scenes aside, is the book actually worth reading? I found the prose quite simple, and even annoying. E. L. James repeats herself several times –sometimes word by word, if I have to read once more "Don't bite your lip" I swear… The descriptions of yummy handsome Christian reminded me of those in Twilight –saga that the author admits played a big influence on her writing style and her decision to publish. The election of wasted metaphors, the poor choice of comparisons, the constant references to Ana's Inner Goddess and the invariable use of the word 'cock' as a verb (is this supposed to be suggestive for Heavens sake?) got me really tired pretty quickly.
On the other hand, there are some readers who claim they could not put the book down. I must agree with Prisqua's review here when she says she lingered on the book for several weeks –and by the time she finished her review, she wasn't done with it yet. I made a real effort to finish it. It took me about ten days or so.
I am with Prisqua one more time: the book is not meant to be literature, but a light entertainment. It didn't do that for me either, as I was quite bored and I really wanted to punch Anastasia hard in the face sometimes, not to give her pleasure but to shut her up! Well, at this point I must admit I didn't like the book. I think we started with the wrong foot, because Fifty Shades of Grey explores what it's supposed to be an all girl fantasy: seducing a rich, powerful man and the truth is, in my particular case, money intimidates me more than it drags me. I would have never fallen for Grey in the first time, not even before reading the contract, so I never really felt any sympathy for the main character, who exposes herself so much only for being with such an asshole (an asshole with a dark, sad childhood is still an asshole!).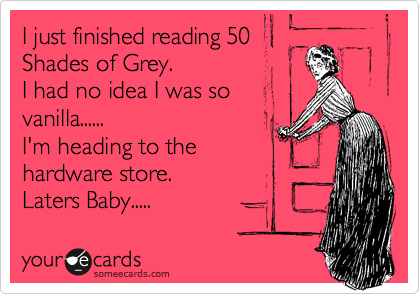 The why so many readers love Fifty Shades Of Grey?
 If you base yourself on my first answer, you couldn't understand why so many readers are responsible for the amazing word to mouth advertising campaign Fifty Shades of Grey got. If you hear so many people talking about the book, you have to see it for yourself! I mean, this is how I got to pay for a book I didn't like in the first time. Who am I to judge anyone else who has read it?
Without being a good writer, E. L. James is a great salesperson! She discovered an unexplored market niche, and she made a fortune by doing what she likes. She's not the first to do so, she won't be the last. Good for her, then! She's not harming anyone, and she doesn't pretend to win a Nobel Prize.
The main target audience is housewives between 35 and 55 years of age. Some of these women have probably never dared to open an erotic book before, but now they were able to discreetly download this one in their ereaders. Some say the book has spiced up their love lives –good for them, then! Again, I'm not against people reading Fifty Shades of Grey, I only advice them to read other books which are better –even kinkier if that's what you dig!