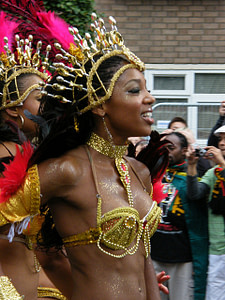 Here in London there is a debate about the Notting Hill Carnival. Several people claim that, due to recent events (of course, we are talking about the London Riots) the Notting Hill Carnival should be cancelled. In fact, some of the residents of Notting Hill have sent request to the Prime Minister and the Home Secretary for the Notting Hill carnival to be called off because they are concerned about safety. There have been many groups in social networks advocating in favor or against the Carnival.
As for myself, I am really looking forward to this event, and I don't think it should be cancelled at all. I live about 5 minutes from it, so my friends and I will be going on Monday the 29th, since it is the "adult" carnival. Sunday the 28th, instead, is Kids' Day, and then the costume prizes are awarded. I've never been there before, but it is apparently a big thing.
What is the Notting Hill Carnival?
Doing a little research on Notting Hill Carnival, I could not find the exact date of the time the Carnival was first held. Somewhere I read that it began in 1966, as this year, in August Bank Holiday. However, Wikipedia quotes 1964 as the first year. Anyway, Notting Hill Carnival has been celebrated for at least some good 45 years, it is a huge tradition, a celebration of diversity –and life! So I think calling it off would be to let ourselves be carried by despair and grief.
There is no other street festival in Europe as important as the Notting Hill Carnival. It takes 20 miles, with its colorful costumes, its delicious foods (especially Caribbean smells, mmmh, yummy!), music that is played through forty static sound systems, loud and fun Carnival after parties… The whole Carnival needs the work of 40,000 volunteers to be developed. And usually, more than one million people –including tourists from all over the globe- attend and enjoy themselves during these unforgettable two days and two nights.
It all begun as a local festival that the community of Notting Hill set up as an offshoot of the Trinidad Carnival: thus, the Caribbean costumes, music and food. Nowadays, the Notting Hill Carnival has become London's most expected event, a vibrant, colorful celebration of diverse cultural and musical genres. In past editions, the Carnival has attracted up to 2 million people: this means it is the second largest of its kind, only behind the immense Rio Carnival which takes place every year in Brazil.
Anyway, as I said before, I don't think such a happy celebration (which generates lots of profits to small and medium businesses because of tourism, by the way) should be cancelled at all. There is a precedent: back in 2005, after the July bombings, there were other cancellation requests, but the Notting Hill Carnival went through. I think, once again, London has to prove to the world that we are alive, that we enjoy ourselves, and that we can take care of our people. So let nobody rain on the Notting Hill Carnival parade!