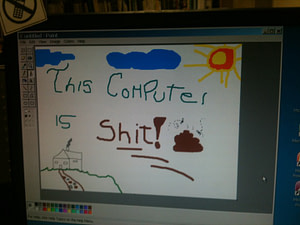 I would like to begin by thanking all my friends who like to remind me how poorly I do my job as a blogger, only because I have not posted anything since September 16th -which is actually not true, since I have several sites which do get updated… And yes, I know, as a blogger, I have to keep consistent. But then again, I'm not sure that consistency and I are that good together, perhaps it isn't meant to be!
Anyway, do not fear, I have plenty of excuses for my lack of writing lately!
Quite a few things have actually been keeping me busy. In fact, sometimes I think it would be truly worthy of a TV series… But I can't really talk about it right now, so let's get to the biggest of my issues at the moment:
I do not have a laptop!!!
I mentioned many times that if you take away my coffee, my iPhone, my laptop and my Internet connection, you may as well shoot me! Hey, I already explained you how attached I am to my smartphone, and how I can't go on without it even for a whole weekend.

As for my laptop, an ASUS G73SW-A1, I bought it on October 17th 2010, that's right, a year ago. I was going to go for another HP, because I was pretty much happy with my last one, and also because I have owned several HP desktop computers over the years, and I never had any big dramas. And I liked the cool slim look of the new HP. But of course, you can't judge a book by its cover…
This time, the main criteria I really, really, really wanted was a backlit keyboard, Bluetooth, and especially powerful enough to play the latest video games, including the Sims 3 which require lots of resources. So I needed a solid, reliable machine.
I know that Alienware, or even a Mac, would have been the top choice but it just happens that I wasn't willing to pay so much (in fact, it was twice the price I could afford at the time). Thus, I was advised to go for Asus. Another important factor was to have an international warranty, because of my constant traveling overseas. I was in New Jersey when my HP laptop died, and I had to send it back to Australia to get it fixed. But at least it got fixed….
My new laptop started to play up 10 days after I bought it. I rang the shop but the salesperson told me that I could not get an exchange, because the purchase was more than seven days old! You read right! Only a week had passed, and no return policy applied, can you believe it? Then, in an attempt to be kind, he gave me the number for the service department, but as I was leaving for Sydney it was not possible for me to go without a laptop. Then I had to leave for the USA.
That was just the beginning.
My laptop started to play up really bad when I was in Green Bay. I called Asus, and they walk me through to format my laptop. Although that did not fix the problem completely, I could still use the laptop. It seemed to have its moments, really like a moody person. Hey, I already deal with this kind of situations when I date, I can NEVER have a normal boyfriend, and could AT LEAST have I a normal, nice laptop? Sometimes I would just have to leave it alone for about an hour, then it would be fine for a few days, or a few months even.
Until a few weeks ago… since I don' have access to an Xbox 360 or PS3 and I so desperately want to play video games, I decided I would turn to PC gaming more seriously. I had an old Call Of Duty game installed, except I found it very hard to play with a mouse and keyboard. So I bought an Xbox 360 controller for Windows, and it was awesome to play Borderlands… And being a fan of first person shooter video games, I am so looking forward to the launch of Battlefield 3, even more than Call of Duty Modern Warfare 3! You can imagine how badly I wanted my laptop ready for those. Instead, it just died on me and I just had no choice to ring Asus to get it fixed at once.
The service was organized and their repair service came to pick it up. After a few days, they told me the motherboard had to be replaced. They also warned me that I would lose all my data unless I paid £30 because the transfer of data was not covered by the warranty. That totally pissed me off, because I tried to transfer my stuff to my external hard drive but the laptop would just shut down. I mean "not covered by warranty", did I expect my laptop to break down? Was it my fault? But I could deal with losing the data. What came next was the real unexpected:
"Recently, your notebook has been sent to LMR for repair. We would like to inform you that your laptop has been found with Hard Drive failure and we also found that the serial number on the Hard Drive doesn't match with ASUS's information (the Hard Drive is not the one which the machine was originally sold with), hence the Hard Drive replacement will not be covered by ASUS warranty terms and conditions. However, we can offer you to replace the Hard Drive but you will be charged.
I have attached the repair quotation for your reference. Please reply by signing the quotation and returning to LetMeRepair UK Ltd either by post, fax or email."
To sum up, the cost to repair the laptop is £281.62.
So for the past two weeks I have been arguing my case that I bought a a brand new Asus laptop, and I trust that the shop that sold it to me was not ripping me off. After all, buying a computer is not like buying a car, where you can just ask to pop the hood to see what is under it! (Not that I would know any better with a car, now that I think about it…) But my point is: how on Earth am I supposed to know that the laptop hard drive matches the brand's information on file?
So it might not sound as an excuse good enough to keep me off writing, but trust me when I say that not having a laptop handy is actually quite a pain… You can pay to use a very slow computer, or you can go to the library -which is free- but it can take up to 20 minutes for a page to load, and you are only allowed to log in for one hour a day! And with a very inspiring environment with some people coming to the library to watch some p*o*rn! Gosh, I miss Starbucks and my beloved vanilla coffee!
But at least I am gathering thousands of ideas for new posts…
Also, a friend of mine is working on publishing his first book so I'm kinda jealous, and feel really inspired to work on mine and finish it at once, though it has been in the works for at least 3 years!
So that is all for now and hopefully I can get back into business as usual very soon. In the meantime, you can always check some of my old posts like What Women Want…
By The way, I hope you had a safe trip back home Jay 😉
Until next time… hopefully with my laptop and at Starbucks…