My reflections on the fastest growing sport MMA…
Everybody is talking about UFC these days. And it doesn't surprise me: after all, MMA is one of the fastest growing sports, and many people are getting more interested in it. As for myself, I like sports, but I discovered how little did I actually know about MMA until I decided to do a little research. Here's what I found out about MMA.
MMA for dummies
For those of you who live outside the US and who know even less than I did, let me tell you some basic stuff about MMA (mixed martial arts, a name coined by Rick Blume, president and CEO of Battlecade, in 1995). MMA is a sport that comes from various mixed style contests: Europe, Japan and the Pacific Rim, as well as Brazilian's Vale Tudo ("no rules", a full-contact unarmed combat), that was brought to America in 1993, when the Gracie family founded the Ultimate Fighting Championship. Showcasing fighters of different disciplines—such as Brazilian jiu jitsu, Muay Thai, boxing, wrestling and other styles—the UFC sought to identify the most effective martial art in a real fight.
There's no acting, no ridiculous costumes, no performance for the audience. Two gladiators face one another, just as in the ancient Roman circus. Thanks to the ever growing number of competitors, organized training camps, information sharing, and modern kinesiology, we are able to watch an always improving combat-effectiveness of various strategies.
However, there are certain rules to respect. Today we don't watch but a regulated form of MMA, and even though the most bloodthirsty spectators may complain, the increasing safety for competitors has promoted the mainstream acceptance of the sport. I know I wouldn't be watching a competition where a guy can literally kill another with his bare hands… hey, but that's just me!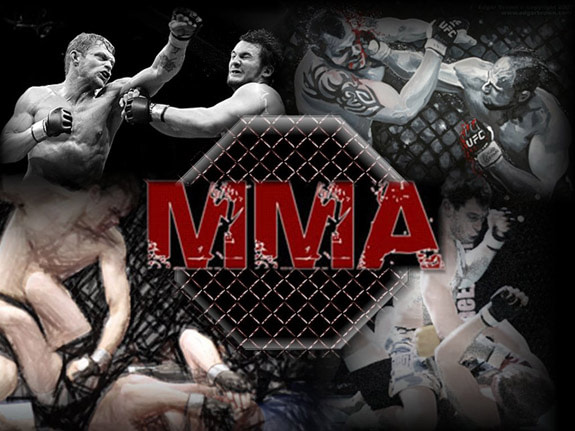 MMA- UFC 119
Last Saturday, I had the chance to watch with some friends the fight between Frank Mir (a local favourite in Las Vegas, former champion and black belt in Brazilian Jiu-Jitsu and Kenpo Karate) and Mirko "Cro Cop" Filipovic (who was replacing Nogueira in the main event), famous for his left head kicks, with which he has knocked out many of his opponents.
There were no big surprises, and most fans seemed to leave unsatisfied, even when Mir defeated Filipović via KO (knee) at 4:02 of the third round. Afterwards, in the post-fight press conference, Mir showed himself dejected, even after winning the fight in front of almost 16,000 fans at Conseco Fieldhouse. He showed he was disappointed at his own performance: "As far as striking, I could have gotten busier. And pushing him against the cage, I drilled so much, but I made mistakes that I wasn't making like lifting my arm up and exposing my ribcage. I think I had too much time to think, and I had to clear my mind."
Why do we find this so exiting? After all, I thought, it's not about beating the opponent, but kicking your own ass. Even though, as Mir said, "A s—– win is better than a s—– loss."