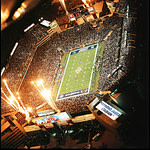 I don't know if I'm feeling somehow nostalgic for America, the thing is I've been doing a lot of thinking about the things I usually do there, and today I woke up remembering last Super Bowl! I always enjoy such an event, especially if surrounded by friends on a comfortable couch, stuffing myself with delicious snacks and absolutely no guilt! (Come on, guys, it's Super Bowl!).
For those of you who have never experienced it, the importance Americans give to the Super Bowl may seem a little crazy… but here is an extract, and you don't have to believe me. You can check with Wikipedia the numbers and figures I provide.
Americans call the day on which the Super Bowl is played "Super Bowl Sunday", and it is now considered a de facto American national holiday! In fact, there is no other time during the year (except Thanksgiving Day) in which U.S. consumes more amounts of food, so you see, it's not just me and the gang! Of course, the Super Bowl is likely to become the most-watched American television broadcast of every year. Actually, Super Bowl XLIV, played last February, has the record of being the most-watched American television program ever –that's right, in history!
You can now imagine how expensive commercial airtime during the Super Bowl broadcast can get… Where on Earth would those companies receive such an exposure? Furthermore, if you're going to spend such a lot of money, you're going to do it right. I love Super Bowl commercials, since they get so creative and original… Believe me. I DO like sports, but sometimes I feel I could enjoy the Super Bowl only for those hilarious commercials –and the treats, well, duh!
Last February, the ones I enjoyed the most were Coca-Cola Simpsons, because it totally caught me off guard to see the Simpsons in a commercial (BTW, shouldn't they be drinking Buzz Cola and Duff? Did those Springfield top brands went broke like poor old Mr. Burns?). Of course, All the Doritos get to the Top Five!!! Did you SEE the look on that kid's face? "Keep your hands off my momma, keep your hands of my Doritos…". Career Builder Casual Friday was the one that got all my friends laughing out loud, all the people in that office just walking around in their underwear made me crack! And, for what I just checked in YouTube, they didn't need more than 30 secs to make an impression… right?
Super Bowl commercials sure know where to aim! Children went crazy for those screaming Denny's chicken. Girls melt for those sweet E-Trade talking babies (was I the only one who remembered Bruce Willis Look who's talking?). Guys went nuts on something as simple as putting Megan Fox naked in the tub…
Anyway, I believe Super Bowl commercials are by now a big part of the show. Totally enjoyable! And for those of you who missed the Super Bowl commercials, here you can watch online some of the last February!