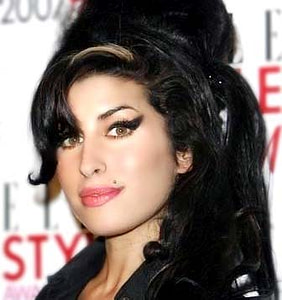 For those of you who haven't heard about Amy Winehouse yet (really?), let's just say she had a beautiful, unique voice, and she wrote songs which deeply expressed her feelings and conflicts. She recorded two successful albums. The first one was Frank, in 2003, which received great critics, but Amy Winehouse became famous worldwide with the next one, Back to Black, three years later. Among many other awards, Amy Winehouse  got herself nominated to six Grammy, and she won five of them, including Best New Artist, Record of the Year and Song of the Year! Amy Winehouse was provocative in her style, one of her many tattoos was even censored!
However, there was a dark side of Amy Winehouse's fame. She was not only known for revitalizing British music, but also because of her conflictive behavior: Amy Winehouse
abused on drugs and alcohol, which eventually threatened to ruin her incipient career, and eventually took her young life. Since Saturday, July 23rd, many fans are in shock because of this tragedy (although not everyone agrees on the fact that it was at all unexpected).
I saw it on the news: Amy Winehouse, 27, was found dead at her house in north London after a suspected drug overdose. Personally, I don't know her music. I heard about her, and that is about it. One of my friends is a big fan, so I listened to her album Back to Black. I have been following a little bit of the story, because of all the comments about it. It is a very sad story, and I am not going to really say much on it, as I am sure there are plenty of stories out there. (Amy Winehouse Wikipedia Page)
Some say that Amy Winehouse doesn't deserve to be in the headlines because of the Norway Massacre: "they did not choose to die but she did."
"There was nothing 'sudden' nor 'shocking' about the death of Amy Winehouse. Was it not as predictable as a weather system? Haven't we been an audience to a very slow and painful death? In only a matter of days, questions will erupt on the lips of any parent -where was her family, and which of her close and personal friends could be held responsible for enabling the habit of the self-destructive behavior so clearly on display which opened regularly for the performer? Someone was enjoying being in the company of Ms. Winehouse aiding and abetting her behavior-perhaps even by their participation in all the same reaches of her grip. This deserves more attention perhaps than the documentary of a troubled artist. What does this say about ourselves as a civilization? The HALL OF SHAME doesn't need another poster child glorifying artistry at the expense of irreverence and self-destruction. History has plenty of those celebrities -in today's emotional economy, who can afford the real estate?
– Vince, California USA"
I think it is very sad to see such a talent wasted. I have some personal experience on this issue because my ex-husband, being a very talented and smart man, unfortunately he chose to turn to drugs after his grandfather's death. He has been on and off the drugs, but he has never been the same ever since he got addicted to heavy drugs. It is also true that until people decide to get help, there is not much you can for them, but to be there for them. When it comes to drugs, no one can help you until you decide to help yourself! Some people are in some ways luckier, because they have the means to get the best help available out there. At the same time, they also have the means to get the worst drugs ever. So where is the fine line?
I am quite shocked by Amy Winehouse's mother comments, and I know some people are beyond help sometimes, but to think she already saw her daughter as a dead daughter is just too sad… It is quite interesting to see that the ex-husband is getting the blame. I know it is so much easier to blame somebody else for our own mistakes, but come on! I had the opportunity to take drugs many times, yet I never did, and I am far from being a saint! My step-son took drugs for years, and my ex-husband thought it would be best to do drugs himself in order to understand his son. My husband turned into a bigger drug addict than his own son, who finally came out of it, but not my ex.
OK, I am not living the life of the rich and famous, and I am pretty sure it can be overwhelming sometimes, but my life has not been all rosy, actually I'm pretty sure it is quite fucked up at times, but taking drugs? Hell no! And I certainly hope my children will never use their father's excuse to ever try them.
"Most addicts are not happy with themselves, and self-esteem is also a big part of it. Drugs and drinking are a cover up to take away the emotional pain they are feeling."
Is addiction really a sickness, or a choice? I chose not to do drugs to deal with the emotional pain, and found other ways to get on with my life, and trust me: it is a constant battle, and not an easy one (and another story, another topic).
Amy Winehouse, we know you didn't find peace in your lifetime, may you finally rest in peace now!