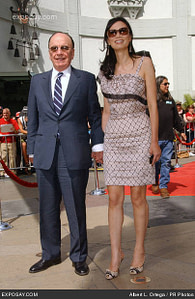 Just the other day I saw Wendi Deng for the first time. For those of you who still haven't heard her name, she's Rupert Murdoch's wife. A friend of mine showed me some pictures of her, and she is very beautiful. Let me tell you, I don't follow too much about the media but we were just impressed at how good she looked for her age (she is 42, but she doesn't look a day older than 30) and how bad he looks compared to her… well, what were you expecting, people, he is 80! Anyway, I suppose she can find interesting other things about him that have anything to do with his looks.
At first, I thought "ok, just another gold-digger", but then I was impressed at the way she attacked that guy to defend her husband. So I decided I would do a little research on her to see who Wendi Deng really was. This woman was born in China, named Wenge, which she would later change, and came to America in 1988, when she found a sponsor family, the Cherrys, who helped her obtain her student visa. However, once in America, the husband got sentimentally involved with the young girl, so her wife kicked both of them out. Mr. Cherry and Wendi got married. They'd eventually divorce in 1993 because he –the cheater- discovered her cheating on him, but by that time, she had already obtained a green card, so things worked out pretty good for Wendi.
Wendi Deng is very smart and hard-working. She studied economics at Cal State Northridge, and graduated of the Yale School of Management. Wendi Deng and Murdoch met in Hong Kong in 1997, and since then, the couple has married and has had two girls (Grace Helen Murdoch, 10, and Chloe Murdoch, 8, the youngest heirs of Murdoch's media empire). She has not taken part in Murdoch's media empire, and she has managed to keep a low profile. So far, Wendi Deng has played the part of a loyal wife. However, no one really believed Wendi Deng was in love with Murdoch, at least until the attack some days ago. Was in just part of the same old performance? Or was it a true heroic act inspired by conjugal love?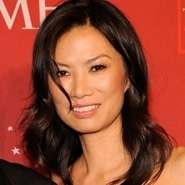 During the select committee hearing because of the hacking scandals of the News of the World, a man tried to attack Murdoch with a shaving foam pie. Immediately, Wendi became a sensation when the cameras captured her wearing that perfect pink outfit, leaping from her seat and slapping the dissenter with her right hand. Hey, she even picked up the paper plate and tried to push it back into the man's face! Now, the same people who would call her a gold digger and family-wrecker are referring to her as Tiger Mom, and a defendant of Chinese pride! In China, Wendi Deng was already a role model for many young girls, who see in her an inspiration.
As for myself, I'm not totally convinced that society has forgiven Wendi Deng for good. Anyway, time will tell if Wendi Deng can hold with old Rupert long enough to become a merry widow, or to get involved in a new scandal.