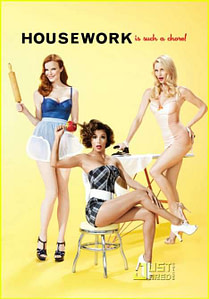 It all started with a couple of comments in a previous post ("Men or money?" ), but "a guy" pieced me off so badly that I want to reply with yet another post… In fact, the meaning of his nickname is quite significant: he's not just one man, there are lots of guys who think like him.
Does a woman become a family destructor only because she chooses to work and make some money of her own? Does every mother need to give up on her career? Can't we have a healthy relation and an income? I think "a guy" took me out of context (perhaps the "I love money" photo helped a little). When I wrote about "chasing money" I was not talking as an ambitious female version of Montgomery Burns, I was just referring to make a living. I use the money I earn to pay my bills, not to pile mountains of diamonds… And I strongly believe in every women's right to choose. If you want to become a full-time housekeeper, and to live solely for your hubby and children, that's ok for you. However, I don't believe it should be mandatory.
Let me tell you something about myself: my ex husband made me give up modeling because he was jealous. Did I like modeling? Yes, indeed. Yet I quit because of him. Not happy with that, then I had to leave my job too, because he knew that guys would just order a drink to talk to me… hey, that was how he met me! Being in Australia he could afford for me not to work, and he would rather have a clean house, food on the table, and kids looked after, than me to work. And still, being a full time mom is a job! The difference is that you don't get paid…
And since I'd rather work, after many years he let me work for him, which was great. But after we split, I went back to the work force, and let me tell you, I loved the feeling of going to work, and having my own paycheck again.
Now, when I come to visit my American boyfriend, we have to rely on his income to pay rent and bills, since I am not allowed to work there. I have money saved, and I absolutely love spending money on him, but at the end of the day one income is really not enough to survive nowadays. And if you have kids or child maintenance to pay it makes it even harder. So believe me when I say that it is not about being better than men or even being equal, I love earning money and I love spoiling my boyfriend.
So, to conclude, I'd like to leave you readers with this poll:
[poll id="2″]