We had been officially separated since 13th of January 2005 so now we are officially divorced since the 10th of October 2009. And I cannot say I have not tried to save my marriage and now it is finally officially over! End of story. 🙂
I wish I could post my divorce decree but I still have not received it: it is a long way from Australia to the USA.
But since it is today the so-called Wordless Wednesday which I rarely do, I decided to go on a hunt and see what crazy, funny or interesting pictures I could find about divorce. Well I found more interesting stuff than just pictures so it will not a be a Wordless Wednesday after all!
But first I had to share this great song "I will Survive". One night, many, many years ago we had a karaoke night at our house and my ex-husband's first wife Liz who used to be a singer, sang that song that night for our now both ex. I wish I had the tape where she sings because it is one of the rare times I ever heard her a sing. She has been a best friend and my greatest support for so many years (and my enemy too at times lol).
I Will Survive by Gloria Gaynor
At first I was afraid I was petrified.
Kept thinking I could never live without you by my side.
But then I spent so many nights
Thinking how you did me wrong.
And I grew strong!
And I learned how to get along!
So now you're back from out of space.
I just walked in to find you here with that sad look upon your face.
I should have changed that stupid lock!
I should have made you leave your key!
If I had known for just one second you'd be back to bother me.
Go on now, go, walk out that door!
Just turn around now
cause you're not welcome any more.
Weren't you the one who tried to hurt (crush) me with goodbye?
Did I crumble
Did I lay down and die
Oh no, not I! I will survive!
Oh and as long as I know how to love I know I stay alive.
I've got all my life to live, I've got all my love to give.
And I'll survive!
I will survive! Hey, hey.
It took all the strength I had not to fall apart.
Kept tryin' hard to mend the pieces of my broken heart!
And I spent oh so many nights
just feeling sorry for myself. I used to cry!
But now I hold my head up high.
And you see me somebody new!
I'm not that chained-up little person still in love with you.
And so you feel like droppin' in,
and just expect me to be free,
now I'm saving all my loving for someone who is loving me!
Go on now…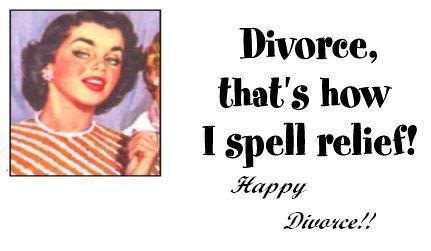 The first thing I found is "The Divorce Party Planner: How to Throw a Divorce or Breakup Party". I am happy to be divorced and I would not mind having a drink over it but to throw a party?? But reading further, I can see the point:
Divorce is hell. Divorce can leave people feeling alone, empty, not to mention irritated that the ex walked off with the J.A. Henckels 15-piece knife set. A new phenomenon, the Divorce Party, is helping people through the trauma of divorce. Divorce Parties are sweeping the country, where they are jump-starting lives, and reminding new divorcees everywhere that life is good… and a bright new future awaits.

Divorce Parties reflect a huge shift in our attitude to divorce. Divorce is no longer a mark of shame or failure. Today divorce is commonplace, openly acknowledged, and often a positive step forward. All the other big events in life — birth, marriage, graduation — have rituals where people come together to help a loved one through transition. The Divorce Party is a much-needed ritual, a way for family and friends to show love and support in a painful time of change. From DivorcePartyPlanner.com
I have not read the book so I have no idea if it is any good. I found this site from another site called the RevengeLady.com where amonsgt things like reading the top 10 revenge stories, revenge stickers… you can also order a PERSONALIZED GET LOST/BREAKUP LETTER OR PHONE CALL FROM REVENGE LADY for only $19.99!  While there you can also get "The Woman's Book of Revenge"…
You can't have a party without a cake…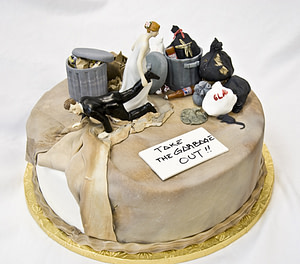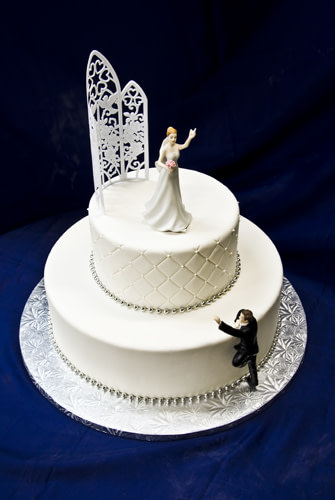 It might not be a Wordless Wednesday after all as I found some divorce quotes to share:
My mother always said don't marry for money, divorce for money. ~Wendy Liebman
To get over my divorce, I got a prescription to live at the Playboy Mansion for a while. ~James Caan
Friendship is the marriage of the soul, and this marriage is liable to divorce. ~Voltaire
The only time my wife and I had a simultaneous orgasm was when the judge signed the divorce papers. ~Woody Allen
The happiest time of anyone's life is just after the first divorce. ~Anonymous
If you think you have trouble supporting a wife, try not supporting her. ~Anonymous
One reason people get divorced is that they run out of gift ideas. ~Anonymous
She got the gold mine, I got the shaft. ~Jerry Reed
Ah, yes, divorce from the Latin word meaning to rip out a man's genitals through his wallet. ~Robin Williams
You don't know a women till you've met her in court. ~Norman Mailer
I've never been married, but I tell people I'm divorced so they won't think something's wrong with me. ~Elayne Boosler
Love, the quest; marriage, the conquest; divorce, the inquest. ~Helen Rowland
The only solid and lasting peace between a man and his wife is, doubtless, a separation. ~Lord Chesterfield
Being divorced is like being hit by a Mack truck if you survive you start looking very carefully to the right and left. ~Anonymous
I'm an excellent housekeeper. Every time I get a divorce, I keep the house. ~Zsa Zsa Gabor
A lawyer is never entirely comfortable with a friendly divorce, any more than a good mortician wants to finish his job and then have the patient sit up on the table. ~Time Magazine
I don't think I'll get married again. I'll just find a woman I don't like and give her a house. ~Lewis Grizzard.
I married Miss Right. I just didn't know her first name was Always. – Anonymous
Why do Jewish divorces cost so much? They're worth it. ~Henny Youngman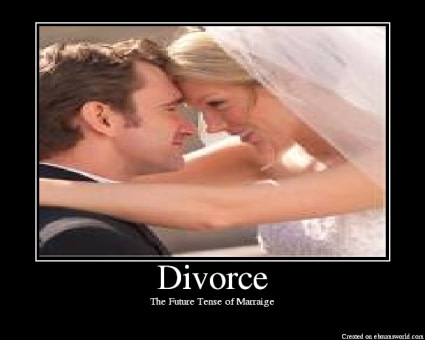 Divorce is the one human tragedy that reduces everything to cash. ~Anonymous
Just another of our many disagreements. He wants a no-fault divorce, whereas I would prefer to have the bastard crucified. ~J.B. Handlesman
She cried, and the judge wiped her tears with my checkbook. (married 13 times, to 11 women) ~Tommy Manville
A lot of people have asked me how short I am. Since my last divorce, I think I'm about $100, 000 short. ~Mickey Rooney
Divorce is a declaration of independence with only two signers. ~Gerard Lieberman
Like I said, I've got too much respect for women to marry them, but that doesn't mean you can't support them emotionally and financially. ~Sylvester Stallone
You can't stay married in a situation where you are afraid to go to sleep in case your wife might cut your throat. ~Mike Tyson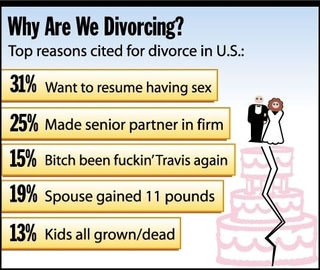 It is actually quite sad to see the so many divorces  and even though I decided to take it as a joke today, I do not have anything against marriage. The biggest thing for me was to understand that marriage is not "until death do us part". I learnt a lot from it and we still had a few good times even though I can't think of any right this moment.  The best part is our two beautiful children. Also my-step son got married a few weeks ago at 25 with his long time girlfriend and I suspect my step-daughter is probably going to go down that way soon too. So congratualtions to all newly wedds and married couples and everyone else!
A girl must marry for love, and keep on marrying until she finds it. ~Zsa Zsa Gabor
🙂