Step Up 3 Final Dance Video Spoiler But Pure Awesomeness!
To me, some movies are simply magical. It doesn't matter how many times we have watched similar plots. You have to put your skepticism and your disbelief aside, and get carried away by the magic of the moment! This time, I want to share with you my impressions about Step Up 3, which I finally got to watch.
Let me tell you, I don't quite love musicals. Even if you, who are reading this, are a big fan, you should understand that it can be hard for some people to accept that suddenly a character stops in the middle of a dialogue or a dramatic scene, and without a warning starts to sing or dance. But Step Up 3 belongs to a different genre altogether: dance films, which I find truly amazing. Unlike musicals, here the dance scenes are not an artifact of the film to tell the audience part of the plot: dancing is the main plot! And now we are talking.
Ok, so I must admit I was a little bit skeptical myself about this movie, not because of the dancing, which I love, but because it was a sequel (a sequel to a sequel, in fact!). Movie sequels, movie prequels, or movie remakes, I have the prejudice that in any case this means a studio is out of ideas and in a desperate need for money. But this is definitely not the case! In fact, these movies keep getting better and better! Step Up was OK; I had a good time, so I decided to give the sequel a chance. Step Up 2 was awesome, it was totally worth the movie ticket! What to say about Step Up 3 then? Step Up 3 is pure awesomeness! I just wish I had seen it at the movies like I wanted to when it was announced, because it must be amazing on the big screen! In fact, it is the first film of this kind to be released in 3D.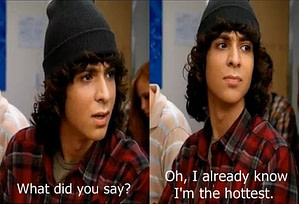 The story is quite simple: it brings together two characters from the previous films of the series. Moose (Adam Sevani) from Step Up 2 the Streets, and Camille Gage (Alyson Stoner) from Step Up, are both in New York City, attending university. Moose has promised his father he'd give up dancing in order to become an engineer, but soon he meets a new friend, Luke Katcher (Rick Malambri), who is part of a dance crew called the House of Pirates. Moose gets involved in a dance battle that earns him an invitation to the World Jam dance contest against their rivals, the House of Samurai dance crew. Torn between his love for dance and his studies, Moose spends a lot of time with Camille without realizing she's in love with him. At the same time, Luke meets a girl, Natalie (Sharni Vinson), who eventually turns out to be the sister of Julien, a rival from the House of Samurai. This way, Natalie is torn between her love and her family. And the day of the big contest is getting closer….
Love, friendship, rivalry, difficult decisions, the experience of growing up and standing up for yourself, being who you are despite on what others think… Step Up 3 is about all that and much more. I loved the story, although it is just an excuse for showing amazing hip-hop choreographies and breathtaking street dance competitions. The final choreography in Step Up 3 is pure beauty; it is one of those scenes that really make me want to dance. As you can see, I love music and I'd really like to dance well, but I guess I'm not a natural, LOL.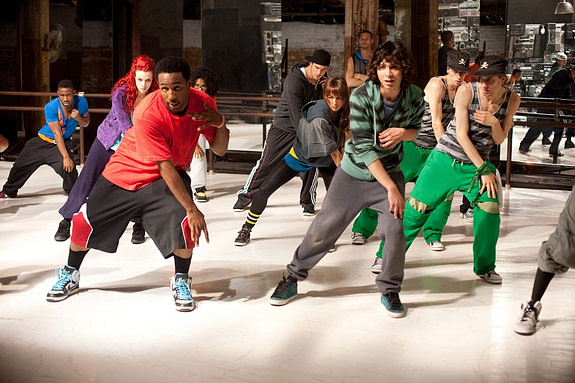 The music in Step Up 3 is also great; it couldn't have been other way! I loved it, and it made me discover Ed Sheeran and Jazmine Sullivan. I had never heard of Ed Sheeran before, and my favorite song is "You need me, I don't need you". As for Jazmine Sullivan, she is singing "Bust Your Windows". Other songs are "Whatchadoin?", (N.A.S.A. featuring M.I.A., Spank Rock, Santigold and Nick Zinner), "My Own Step (Theme from Step Up 3D)" (Roscoe Dash featuring T-Pain & Fabo), and "Irresistible" (Wisin & Yandel). By the way, I bought the soundtrack but it only includes 18 songs for a film that features like 50! I was really hoping there would be a second part, but apparently there isn't.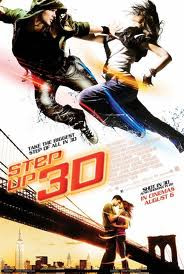 The only negative part I can think of is the dialogue, some of it was a little naïve if you ask me, and some parts became a little long while waiting for the dancing parts which are, by the way, what the audience has come to see! For example, I found it a little difficult to believe that Moose didn't realize how much Camille and him loved each other. And the last scene, at the train station… please, there are really cheap flights nowadays! But after all, these are only minor details that don't weaken the great entertainment Step Up 3 really is!
If you like dance films and dance contests just as in Step Up 3, then you should watch classical films like Hairspray (the original is from 1988, a remake was made in 2007 with John Travolta), Grease (which skyrocket John Travolta to the stars), Saturday Night Fever (Travolta, again!), Flashdance, Fame… I know, I know, those movies are rather old, but classics never die! And hey, if you had had it with Travolta, the seventies and the eighties, and you'd rather watch something newer, check out Dance with me, with the Latin hot star Chayanne and Vanessa Williams; Save the last dance, with Julia Stiles and Sean Patrick Thomas; or High School Musical, that brought the genre to a new life. In TV, a series like Glee features great songs, although it is more focused on singing than in dancing.
How about you? Did you watch Step Up 3? Do you like dance films? Why / why not?